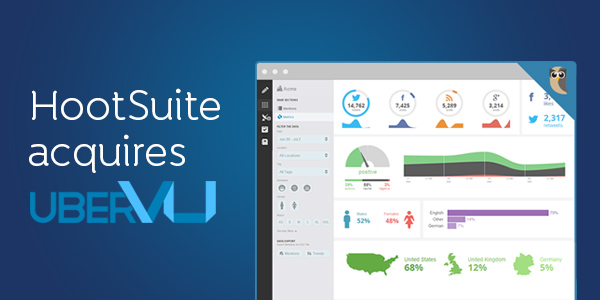 HootSuite acquires uberVU image courtesy of HootSuite.
Today, HootSuite acquired uberVU, a social analytics solution. DataHive has already written about the importance of HootSuite in supporting B2B social media and we're a fan of many of Hootsuite's data aggregation, tracking, and scheduling capabilities. But uberVU will provide HootSuite with opportunities to improve social HR, sales, marketing, innovation, and core social analytics.
We haven't historically been big fans of Hootsuite's analytics capabilities, which is why we also recommend a number of additional analytics solutions to supplement HootSuite. Because of this, we're bullish on HootSuite's acquisition of uberVU as we think this will ultimately open up uberVU's capabilities to Hootsuite's large audience.
uberVU is an analytics solution that we would suggest to larger DataHive Consulting clients based on its clean dashboarding, support, and users. Because uberVU currently starts at $500 a month, we wouldn't typically recommend this toolset to smaller companies where social media does not warrant this level of investment.
Our hope is that HootSuite will be bringing parts of uberVU's analytics directly into HootSuite in the near future. By bringing real-time influencers and real-time trending directly into HootSuite analytics, HootSuite would quickly have a much more compelling paid product. Considering that an estimated 95% of HootSuite customers are currently free customers, there is a lot of room for HootSuite to quickly increase revenue simply by making some basic improvements to its current analytics offerings.
The goal for using social media isn't just to get likes or to stroke your own ego. Ultimately, social media has to provide insight and guidance for HR, sales, marketing, and innovation. uberVU is a first step for HootSuite to move beyond social media aggregation and interaction to a new level of social media insight and strategy.
If DataHive were in charge of the integration, we would be tailoring uberVU's analytics into specific line-of-business products which could then be pointed specifically to Hootsuite's 8 million users. Start with a specific PR or community function that fits directly into key community manager KPIs. And then we would quickly move into sales and show HootSuite customers how to start building a social pipeline. We would also build HR-specific tracking tools both to track specific competitors and skill sets and show where specific adjacent terms would potentially provide a better talent pool. HootSuite should be the center of social business activity, which would make the paid HootSuite product a no brainer. This acquisition is a great step towards productizing the social strategies that HootSuite already provides to clients.
If you'd like to learn more about how the combination of HootSuite and uberVU will help your social strategy or how to move past an initial stage of social posting to an advanced stage of social community, interaction, and insight, please get in contact with us at connect@datahiveconsulting.com and we'd be glad to schedule a free introductory call regarding your social challenges.